ROBERT F. MUNROE UPPER SCHOOL
OVERVIEW: GRADES 6 – 12
College Preparatory
Students focus on learning the skills needed to prepare them for a successful future, with a strong focus on college placement. Each student is assigned a college counselor and an advisor. Together they guide the families through the process of the college preparatory program, including preparing for the SAT, preparing and applying to colleges, applying for scholarships, and enrolling in the college of their choice.  
 Our students have had unmatched success in the college admissions process. Our most recent graduating classes school on average in the 85th percentile nationally, 200 points higher on the SAT than the national average. Over the past three years, 95% of our seniors were admitted to their first-choice schools, including the University of Florida, Florida State University, Rhodes College, Embry Riddle, Oregon University, University of Central Florida, LSU, East Carolina University, Auburn, Florida Atlantic University, and Troy. 
Electives and Block Schedule
The Upper School runs on a college like Block Schedule. Seven classes are taken each week. Four academic classes meet every Monday, Wednesday, and Friday. On Tuesdays and Thursdays, students get the chance to take a variety of elective courses. 
Electives rotate from year, semester to semester, to assure that students get the chance to explore a variety of interests. Each year new electives are rotated in based on requests from the students. Recent electives include
SAT Prep
Sports History
Agriculture
Plant Science, Animal Science
Photography
Football
Soccer
Basketball
Swimming
Volleyball
Baseball
Weight Training
Culinary Arts
Study Skills
Band, Music
String Ensemble
Percussion
Advance Ensemble
Yearbook
Photoshop

Graphic Design
Sewing and Design
Theater
Stage Makeup
Ceramics
2D Art
3D Art
Photography
Medical Science
Marketing
Law Studies
Programming
Robotics
3D Printing
Entrepreneurship
Journalism
Dance
Foreign Language
Computer Science
Health
MS/HS Boys Basketball
MS/HS Baseball
MS/HS Football
MS/ HS Volleyball
Girls Basketball
Soccer
Softball
Water Polo
E-Sports Video Game Class
Medieval History through Games
Intro to Art
Technical Theater
Drum Line
Advanced Music
Intro to Engineering
Mock Trial
Business and Development
HS Web Design
Intro to Business
Exercise Science
SocialMedia
Leadership Development
Yoga and Nutrition
Stage Makeup-

 
$50 Fee Associated with this class.
Advanced Ceramics-
$50 Fee Associated with this class and approval from the teacher. Must have taken Intro to Ceramics.
Sign Language I-

 
Must already be in the class.
Honors Spanish I– Must already be in Spanish 1
Spanish II– Must already be in Spanish
Intro to Ceramics– $50 cost associated with the class
Advanced Sewing and Design-

 
$50 cost associated with class and teacher approval. Must have taken Intro to Sewing and Design
Social Dynamics in TTRPGs (Table Top Role Playing Game)-
the focus of this class will be Dungeons and Dragons.
Technology
Each new student to the Upper School is assigned a personal use iPad to us in classes and at home. Classes focus on critical thinking skills and cognitive development and use the technology to enhance, rather than replace, the in-class lectures and activities. Textbooks are a hybrid of physical books and online books. Classes that require problems and extensive reading tend to be physical, while classes that benefit from embedded videos and digital activities tend to be on the student's iPad. Each classroom has digital displays and utilizes the iPads to provide instant feedback to the teacher about how well the students understand the material being taught. 
Instructional Philosophy 
Research shows that students learn by doing, not by googling answers just to fill out worksheets teachers assign as homework. That's why our students focus on learning in the classroom. Students enjoy a variety of classroom strategies, including lectures, projects, guided practice, and individual work. Students get the chance to work with the teacher as they are practicing their work, assuring understanding. Homework is used to enhance the learning process, with typical assignments including studying for tests, reading, working on projects, and completing in-class assignments. 
 Students learn by doing. We avoid worksheets and simple rote memorization, instead, focusing on students gaining real-world skills as they create and participate in the learning process. Classroom discussions, projects, and writing assignments are all encouraged. 
College Associates of Arts Degree Program
Students are encouraged to begin applying to the school college program as early as 8th grade. Students accepted into the program begin working towards a college degree, which can be awarded at the same time as the high school degree. 
Most teachers in the High School are also college professors, and teach college classes at our school to the high school students. Many of our High School students take advantage of the area's most comprehensive advanced college credit program. Through a partnership with local colleges, our students are able to take classes with our teachers. By their senior year, Dual Enrollment students declare a major and can pursue college electives in the field of their interest, such as engineering, computer science, and nursing. 
Munroe offers more college credit courses than any other high school in the area. In 9th and 10th grade students have access to a rotating selection of Advanced Placement courses in Social Studies, Science, and Art. These include:
AP Biology, AP Chemistry, AP Environmental, AP Physics, AP Comparative Government, AP Human Geography, AP Art, AP Statistics, AP Psychology, AP Computer Science 
Students accepted into the Dual Enrollment Program get access to our rotating schedule of college courses, including:
Enc 1101 (English), Enc 1102 (English), Chm 1020 (Chemistry), Lit 2000 (Literature), Enl 2000 (British Literature), Amh 2010 (American History), Amh 2020 (American History), Fin 1100 (Financial Literacy), Fin 1110 (Business Finances), Geb 1011 (Business), Sls 1510 (College Success), Eco 1213 (Economics), Mac 1105 (College Algebra), Mac 1140 (Precalculus), The 2000 (Theater Appreciation), Evr 1001 (Environmental Science), Oce 1001 (Oceanography), Bot 1000 (Plant Science), BSC 2085 (Anatomy)
Additional college elective classes in a variety of subjects are offered through our partnership with local colleges. 
Our students are able to participate in the 2+2 Florida College Program, offering guaranteed admission to Florida colleges like the University of Florida and Florida State University.
Vocational Education
Munroe 11th and 12th-grade students have full access to a variety of vocational courses and certifications. The offerings are provided during elective days. Past courses have included engine repair, woodworking, welding, cosmetology, pharmacy technician, automotive service technology, and nursing. Students meeting state requirements can graduate with a certification in their field and a Gold Seal scholarship to the Florida college of their choice.
ROBERT F. MUNROE MIDDLE SCHOOL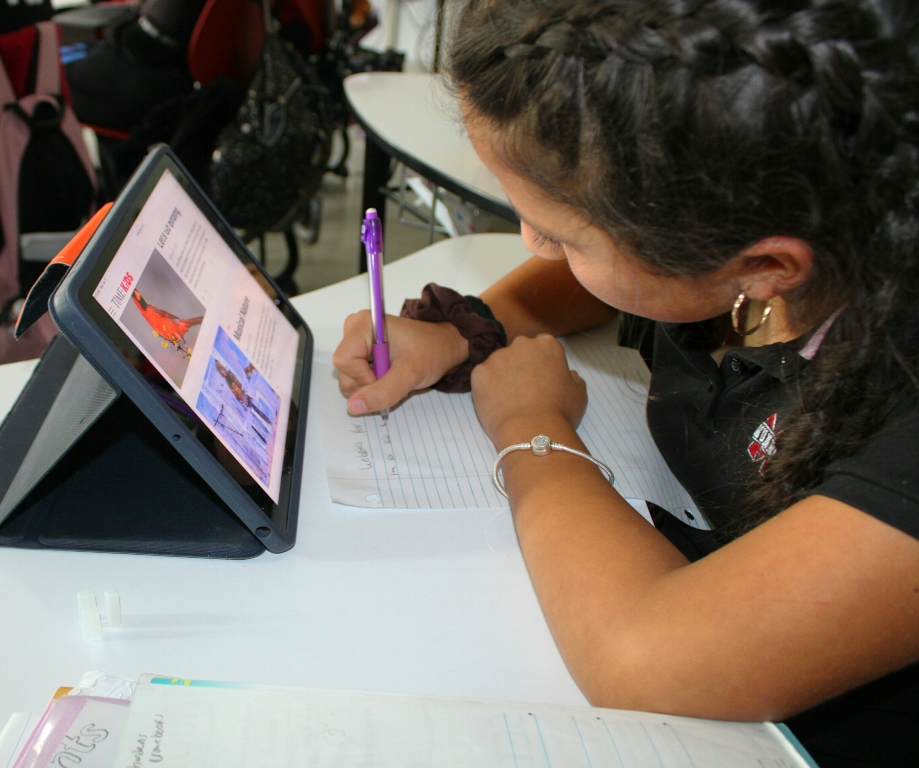 Robert F. Munroe's middle school (grades 6-8) is academically challenging and fosters an environment that encourages responsibility, independence, respect, as well as collaborative learning. Creativity and critical thinking are evidenced in academic offerings in Language Arts, Reading, Science, Mathematics, Foreign Language, Fine Arts and Personal Fitness. Students that qualify will be eligible to earn a high school credit in mathematics (Honors Algebra) in 8th grade. Incorporating technology into daily instruction prepares students to more knowledgeably utilize, organize, and manage the unlimited world of information that is always at their fingertips.
The students' learning environment is extended through class trips to destinations such as Washington, D.C. A myriad of learning experiences are found within driving distance from campus. Students have opportunities to investigate places such as, Florida State Caverns, Ed Ball Wakulla Springs State Park, St. Marks Lighthouse and other nearby coastal environments.
Student participation is encouraged in a variety of clubs. Academically Jr. Beta Club is available for qualified students, Fellowship of Christian Athletes (FCA), Student Council, Interact Club, Multi-cultural Club, and Model U.N.
Organized after-school team sports are available for any student who wishes to participate. There are football, cross country, basketball, baseball, soccer, volleyball, tennis and cheerleading opportunities for all.
Robert F. Munroe's middle school program challenges students to excel and prepare academically as well as socially for the opportunities and challenges that each will face as they enter high school.
ROBERT F. MUNROE HIGH SCHOOL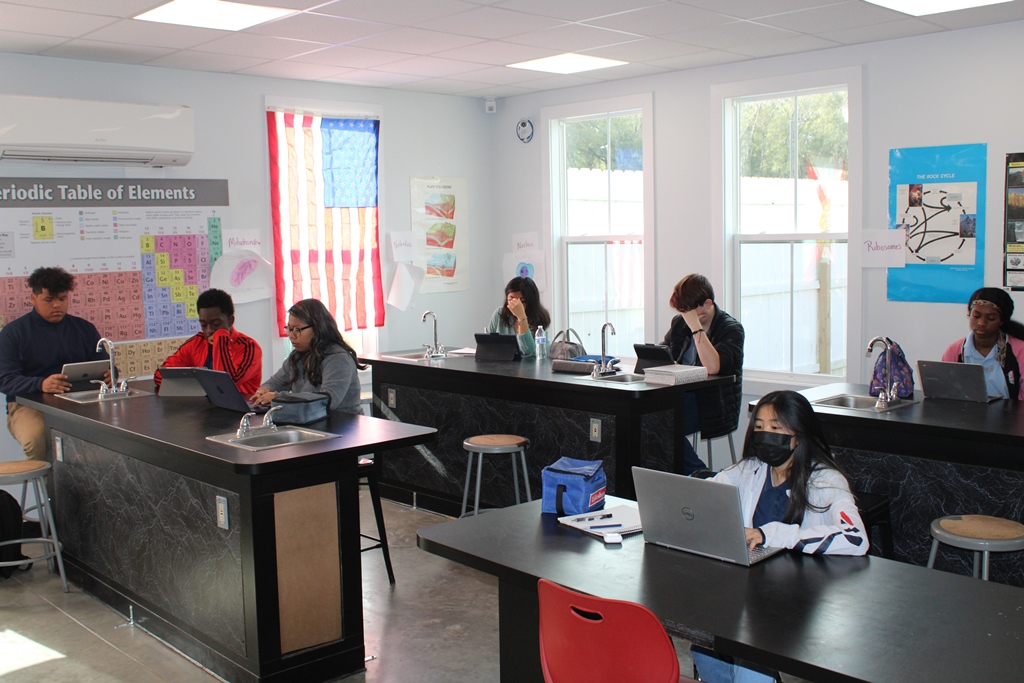 Robert F. Munroe high school challenges students to become successful citizens of home, school, community, state, nation, and our global world. Our educators recognize the potential of each and every student and maximize the potential of each and every one. Opportunities abound for learning and discovery in academics, athletics, fine arts, mathematics, history, and science. Our rigorous curriculum incorporates technology into the classroom through online texts, show me presentations, and iPad research. Our small class sizes are conducive to more individualized instruction and attention. Most classes are limited to less than 18 students to assure that each student gets one-on-one personal experience with our teachers to assure the growth and development of our students. 
Not only are our students afforded the opportunity to balance rigorous academics with athletics but they also participate in community service projects: Leadership positions in student government, Beta Club, and service organizations such as Anchor Club (sponsored by Pilot) and Key Club (Kiwanis).
Our Robert F. Munroe graduates are well prepared and accepted to major universities. Most of our graduating seniors are offered scholarships to the college of their choices.