Building a New Campus
Discover how you can support our initiative to build a new campus.
Moving the campus not only benefits our future bobcats,
but it is a great move for our community and Gadsden County.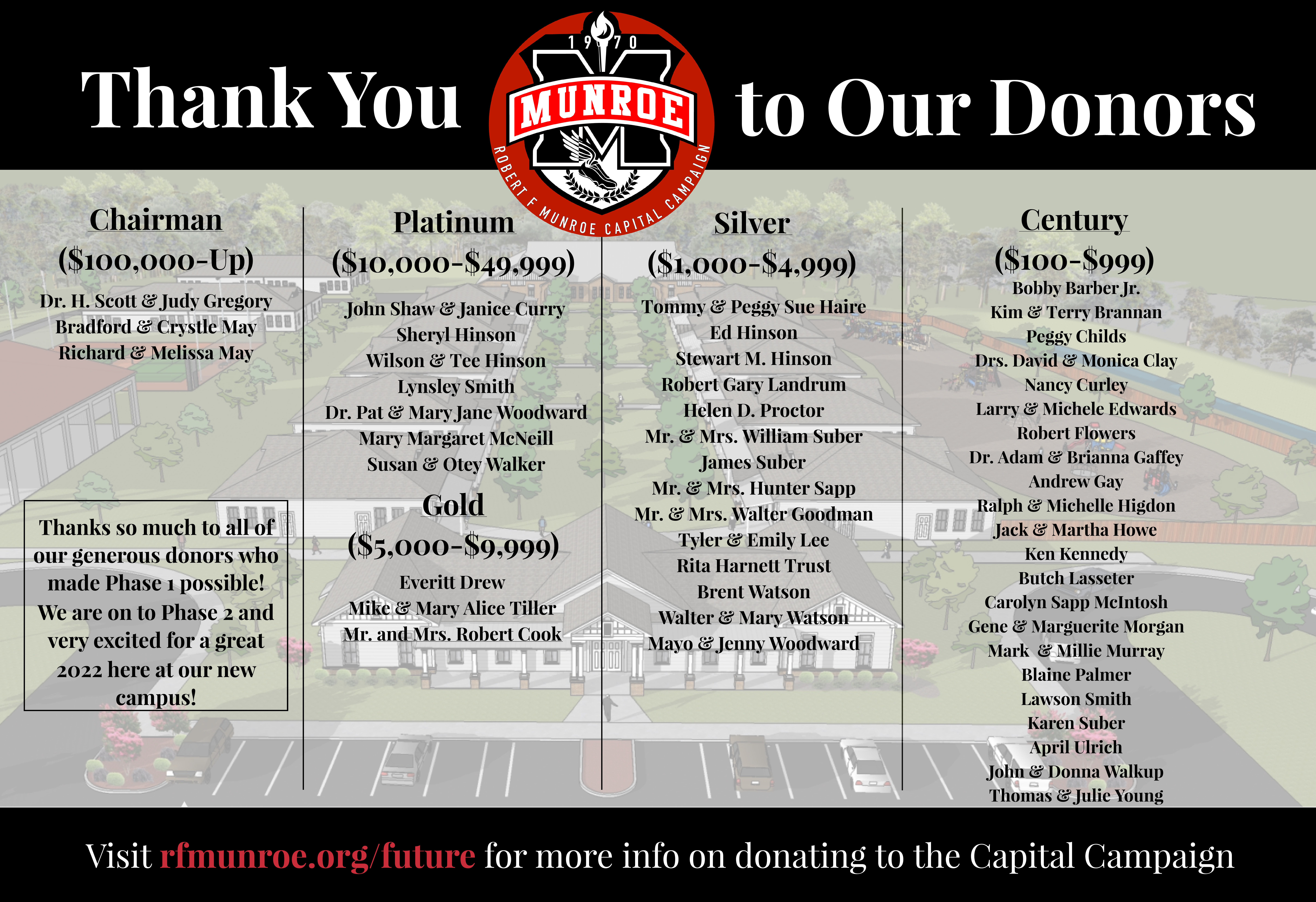 January 2022
We have started construction on the next three buildings on campus. Those are the Library, Student Center, and a new Classroom Building! Those are expected to be completed by the end of 2022! Spring landscaping will begin soon with more flowers, plants, and trees going in! That will be followed up this summer with a second entrance being put in in the front that will come in from the athletic fields and feed into the second car pick up loop! Finally, we are currently fundraising for Phase 2 which will be the Gym, Baseball field, and Pool! So much to be excited about here at Munroe and none of it would be possible without you all!
November 2021
On November 16th, we dedicated our brand new playground! Named The Bob D. and Julia Munroe Woodward Playground in their memory.
August 2021
We began the new school year at our brand new campus!
July 2021
The first 4 permanent buildings and temporary US Buildings are in place and crews are moving class contents into place. We're almost ready for the new school year!
March 2021
The 5 Million Dollar funding goal has been reached!
February 2021
The foundation is laid for the first 4 permanent buildings.
June 2020
Over 20 acres of land have been cleared, the retention pond installed, and land prepped for construction.
May 2020
Clearing land for academic buildings and athletic facilities has begun.
December 20, 2019
An anonymous pledge of $1M is given to Munroe.
December 4, 2019
"Future Home of Robert F. Munroe" signs were installed at the new property on Highway 90 and Lanier Road.
December 3, 2019
On Tuesday, Gadsden County Board of County Commissioners unanimously approved Munroe to relocate to a 39 acre property on Hwy 90 and Lanier Rd. Signs were installed on the new property yesterday and we will begin construction soon.
WTXL News Story, RFM Looking to Relocate – http://bit.ly/2EcQh49
WTXL News Story, Commissioners Vote to Relocate – http://bit.ly/2rdnyJA
November 14, 2019
FDOT completed the turning lane in front of our new campus.
October 2019
FDOT completed the turning lane in front of our new campus.
Building On Success.
Assuring Our Future.
Are you committed to helping each child at our school reach their full potential, in mind and body? If you believe that quality instructors, small class sizes, a well-developed curriculum, and research-based instructional techniques will promote a learning environment that fosters student engagement and a love of learning, we need your help to make that happen.
In 2019, the Robert F. Munroe Day School Corporate Board and Board of Trustees approved to relocate the school's campus from it's current Mt. Pleasant location to a 40 acre lot at the intersection of Highway 90 and Lanier Road. The decision was based on the three primary reasons listed below.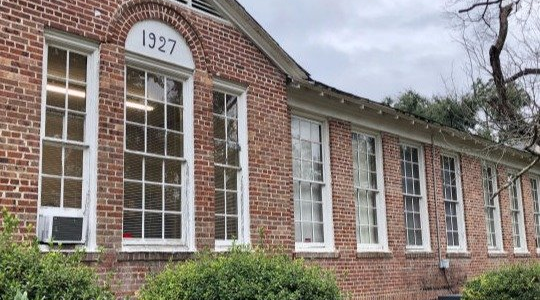 Aging Facility
Our signature building is 100 years old, and has major issues with wood rot, air conditioning, fire alarms, classroom amenities like Wi-Fi and network challenges. The cost for us to bring this beautiful structure up to current standards is massive. And that was before Hurricane Michael hit.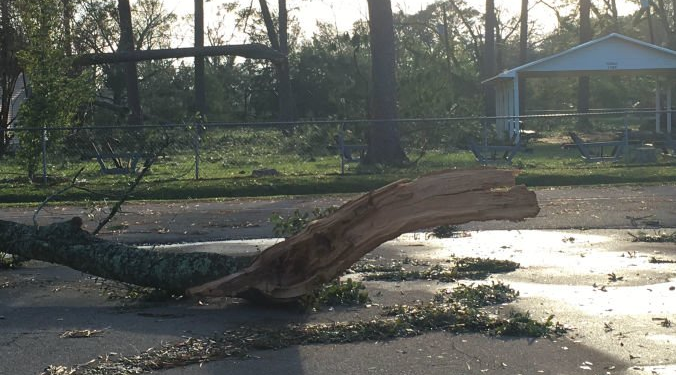 HURRICANE MICHAEL
Hurricane Michael destroyed one building, and wind damaged every building on campus. Because FEMA has declared our area a disaster zone, your school has access to more than a million dollars in disaster relief funds that could either fix our broken campus, or provide even more funds to build new buildings that are up to code.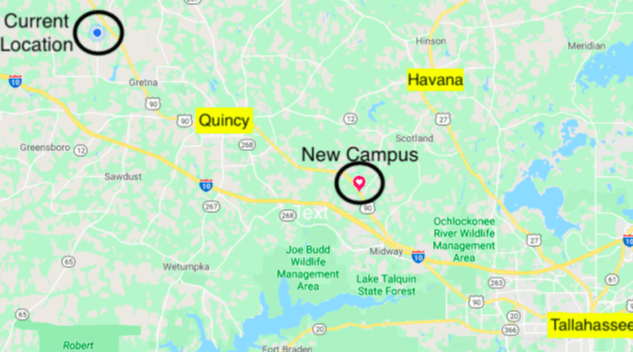 Location
As much as you love our school, you know it is not in a very convenient location for our students. It is also prohibitively too far for many who want a great education. Even if we could fix our current campus, as beautiful as it is, our long term survival requires us to move to attract more students.
Educating children with character is just as important as academic education.
Will your contributions make the world a better place?
R.F. Munroe currently prepares students that compete with the very best in the Florida panhandle, at a cost nearly half of nearby private schools. Our new location gives our students a safe and secure learning environment that still maintains the same small town feel as you enjoyed.
Only through your generous support will we continue to grow and develop into the area's top independent school, providing the children of this region the best educational experience possible while preparing them to be the innovators and leaders of tomorrow.
New Campus
These new buildings will house student education and activities. Naming opportunities are available with each gift amount listed below.