The basic premise of our extracurricular activities is to provide students a non-academic environment in which to excel and develop leadership, communication, social and service skills.
Organization
Sponsor
Purpose
Anchor Club
Katy Jo Helm
Civic Service
Key Club
Billy Suber

Beta Club (Sr.)

Beta Club (Jr.)

Marcelle Rhodes

Marcelle Rhodes

Honor Society

Honor Society

Year Book
Dana Montenieri
Journalism
Art Club
Beth Cox
Activity
Student Council
Tori Hollingsworth
Elected Service Organization
Paw Print
Kathy Ashman
School Newspaper
FCA
Lisa Wilder and Marcelle Rhodes
Religious Organization
 Fishing Club
Adreanna Russo
Athletic Club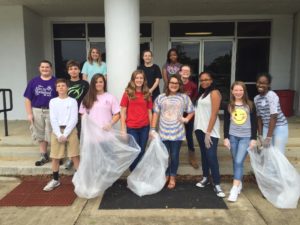 All activities are under general supervision of the headmaster's office and the direct supervision of the sponsor or coach.
There are a wide range of offerings for all students in areas of academic clubs, service organizations, and athletics.
There are six school clubs and two organizations available for students to join. There are two academic clubs, three service clubs, and one spiritual club. The academic clubs are divided between high school and middle school. They are open to all students and do not require a tryout.